THE SCHOOL OF JMS AT RHODES UNIVERSITY: MURAL

JMS50
This year is the 50th anniversary of  Rhodes University's School of Journalism and Media Studies. To mark 2022 as a historic moment, JMS staff have put in place a range of activities that enable us to revisit the School's history, to think about what kind of institution we have become, and to imagine what the next fifty years of our existence might entail. The objective is not simply to celebrate (or critique) the past. Rather, the broader purpose is to recognise that this moment offers us an opportunity to envision how we might remain relevant to our rapidly changing social, cultural and political environment while we respond to the techno-social revolutions taking place in the media landscape.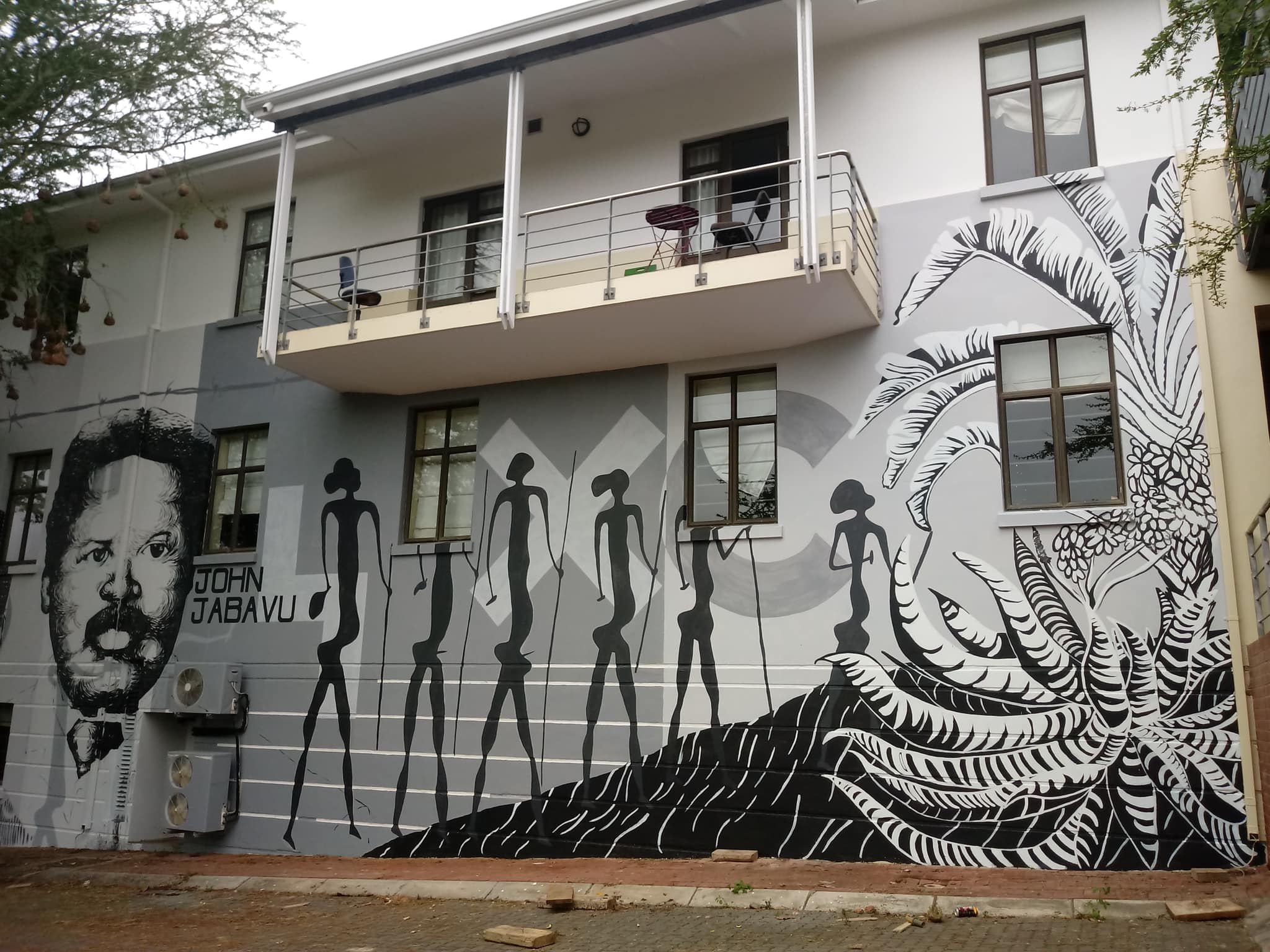 We have envisaged this programme as a way to reflect on the social and media histories that have shaped us and our approaches to journalism and media education, research and production. It is also an opportunity to imagine possible futures for our School and the ways in which our work might contribute to these. In thinking about these objectives we have taken into consideration  the  relationships that we have had – and wish to reignite and develop – with our communities and partners. In particular, recognising the role they have played in the School's development over the years, we wish to strengthen our ties with partners and communities in Makhanda and the Eastern Cape more broadly, with the aim of benefiting them in some way.
The JMS Mural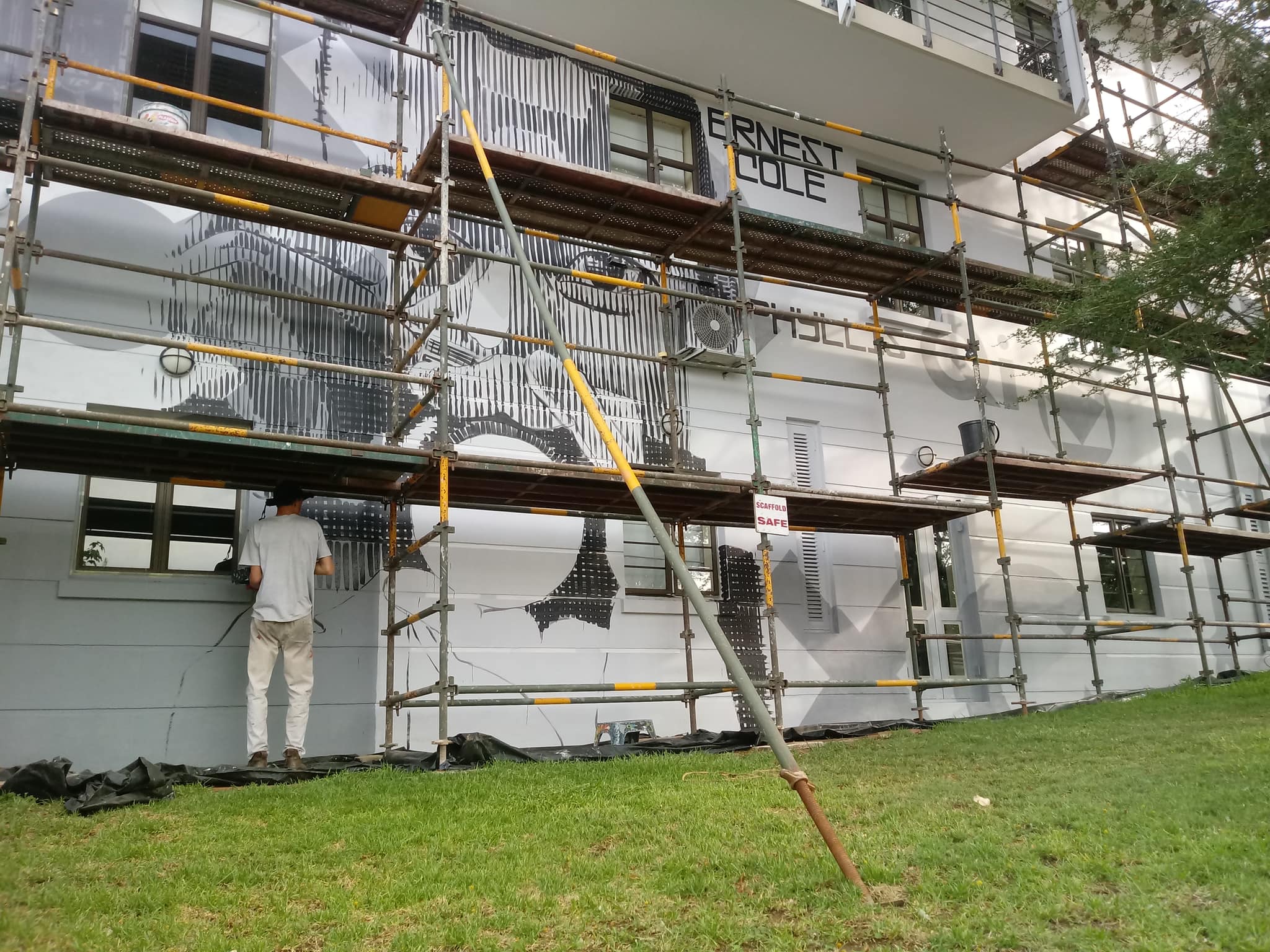 The proposed JMS mural is the result of a process of consultation and collaboration amongst members of the School of Journalism and Media Studies, starting in 2021 as we planned the 2022 programme. The idea emerged in discussions about possible activities that would result in a durable and visible commemoration of our anniversary that would contribute to the wider community in some way. To this end, tasked by the School, a team was put together consisting of Priscilla Boshoff (team leader), Taryn Isaacs de Vega (specialising in media histories), Alette Schoon (whose documentary "Intellectual Giants of the Eastern Cape" provides valuable source material about black intellectuals and early print media in the Eastern Cape), Harold Gess (South African photography history), Gill Rennie (South African writing) and Michael Irwin (director of AMM facilities).
Mural Concept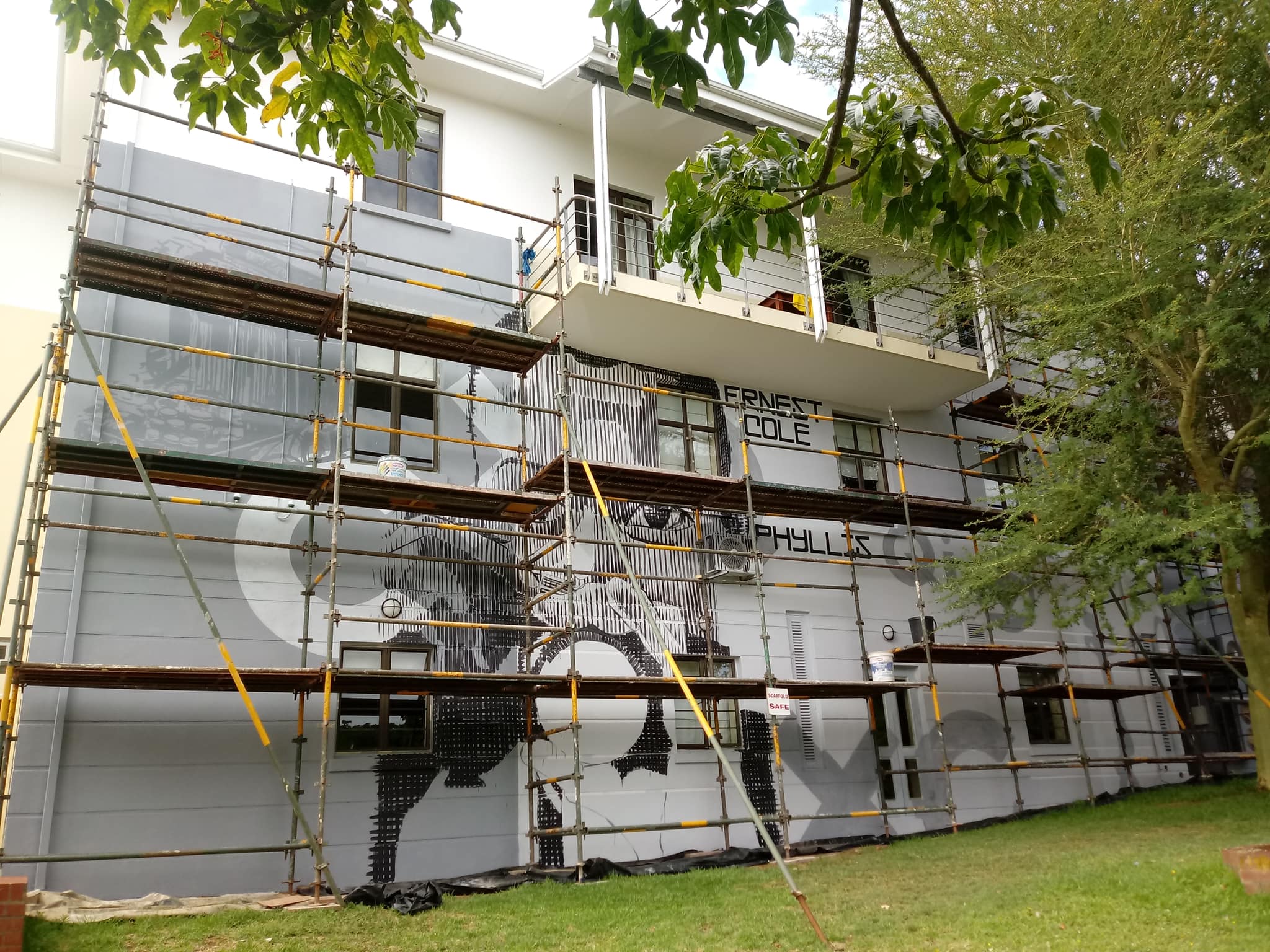 The mural is conceptualised as both a commemoration of our place in a wider media history and as a contribution to our communities. This contribution will not only derive from the mural's intrinsic aesthetic appeal, but should emerge from its playing an educative, affirming and decolonising role for those who engage with it. It is designed to recognise and validate the diverse characters and institutions that have contributed to our rich local and national media history.
In order to achieve this goal, the mural will point selectively to significant moments in our long and complex media history, which include both individuals and institutions:
It will begin in precolonial times (pre 1652) with images that evoke Africa's oral society, at a time when oral history played a primary mediating social role.
The mural will then move to the colonial era, primarily that of the British colonial experience (1806-1910), with figures such as John Tengo Jabavu[1] (a political activist and the editor of South Africa's first indigenous language newspaper, Isigidimi samaXhosa), Thomas Pringle (who introduced the printing press to South Africa to drive political resistance and emancipation) and Lovedale Mission (which produced many journalists and writers as well as housing the iconic Lovedale Press).
The apartheid era (1948-1990) will come next, symbolised by figures and instituions such as Sol Plaatjie (newspaper editor and part-owner of Kuranta ya Becoana (Bechuana Gazette) in Mahikeng), Ernest Cole (the photographer whose book, House of Bondage, played a considerable role in turning the tide of pubic opinion against the aparthied state) and Vrye Weekblad (the apartheid resistance press).
The post-apartheid era (1990 onwards) will be represented through iconic institutions and publications, perhaps as an open book or newspaper from which a range of quotations, publication titles and "photographs" emerge.
The future will be indicated metaphorically.
While many early media examples are from the Eastern Cape – which during colonial and apartheid times produced a range of African intellectuals and literary icons who were also leading media figures  –  the final mural will incorporate a range of characters and institutions who point to our shared national media history. The final selection and composition will be made in collaboration with the artists.
Notably, the selection is meant to play an educative role, not only bringing eminent characters and moments in history to viewers' attention, but also by demonstrating the diversity and richness of this history. This educative function will be supported by an information plaque attached to the AMM outside wall about the mural and its construction, the artist names, and the various historical moments, characters and institutions that the mural depicts. Building on this educational function, we intend to use the mural as a talking point when we conduct tours of our building for parents and visitors at key University events such as orientation week and graduation.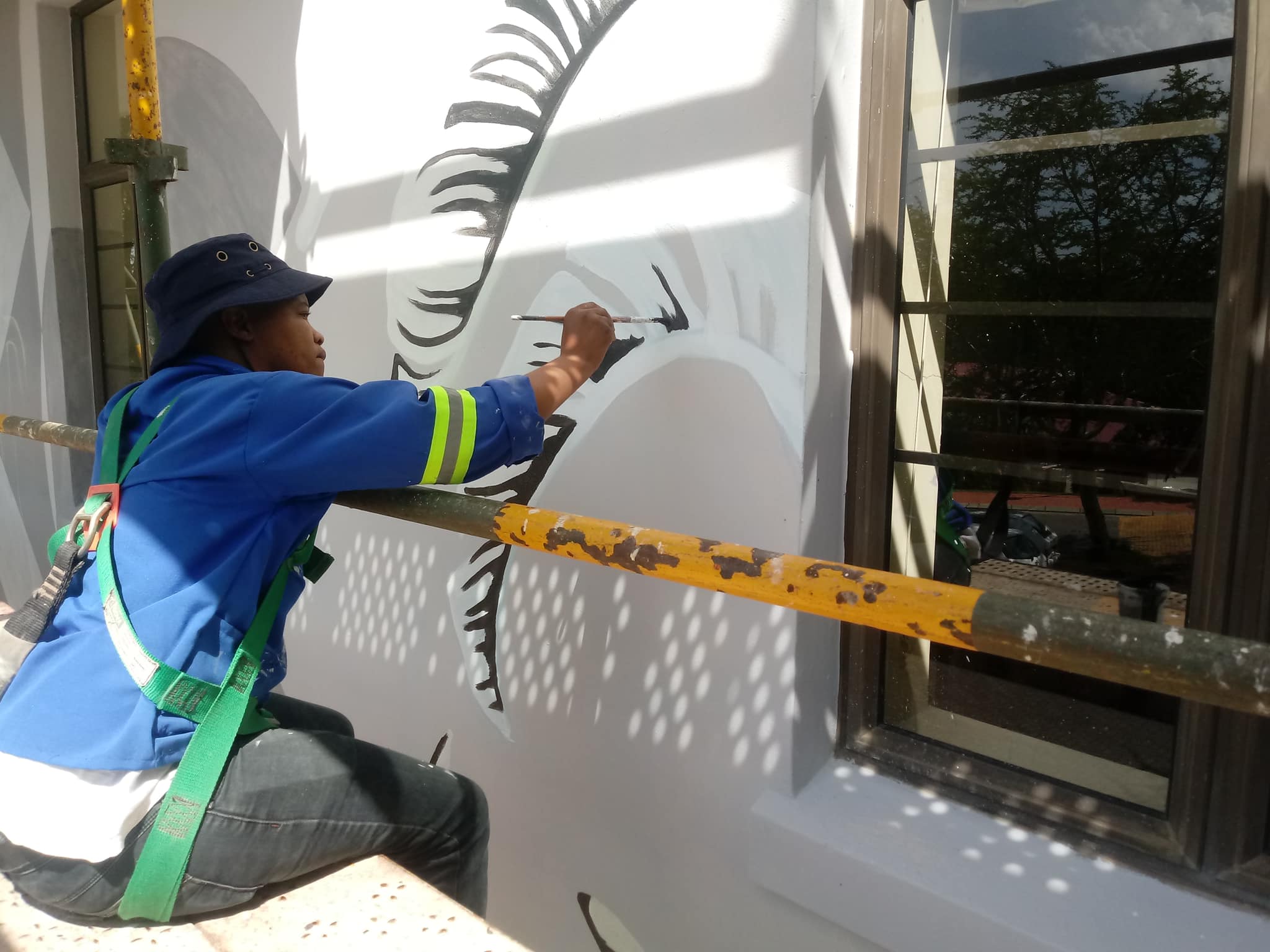 The choice of a mural is deliberate: while graffiti is an act of (infra)political resistance by subalterns, a mural is made with the consent of the owners of the site on which the image is erected. However, a mural can retain the re-educative and oppositional potential of graffiti, directing attention to alternative ways of knowing and thinking about the world. Mook Lion and Sanelisiwe Singaphi are graffiti artists based in the Eastern Cape who work towards the  decolonisation of institutions and urban landscapes for communal benefit (see attached bios/portfolios). This choice of these Eastern Cape artists is part of our commitment to our local community. Mook Lion is also considering working with final year Fine Art students, which will give them real-world experience in this field of artistic practice.
With respect to the actual painting of the mural, JMS recognises that the AMM has recently been painted. The artists assure us that this recent refurbishment provides an excellent foundation for the mural and will ensure its longevity. The school will work in close consultation with the university to ensure that we follow the necessary guidelines to protect the integrity of the paintwork on the side of the building on which the mural will be displayed.